Mealtimes are great times for watching beautiful birds and other wildlife in Australia. On the Wildlife Journey we take most of our meals outside in nature for this reason. Travel usually involves moving from place to place, but when we eat, we stop. Wildlife feels...
Spring is an exciting time in the forests of southern Australia: its baby koala season! Koala joeys usually emerge from their mother's pouch in July, August and September. They have been in there for six months, but mother koalas are experts at hiding their baby...
read more
By Morwenna Petaia Rainbow Bee-eaters are beauty, brains and bravery combined. On the Wild Top End tour, almost every day we hear a guest exclaim with delight: "What is that beautiful bird?" Almost without looking we know it is a Rainbow Bee-eater. Even after...
read more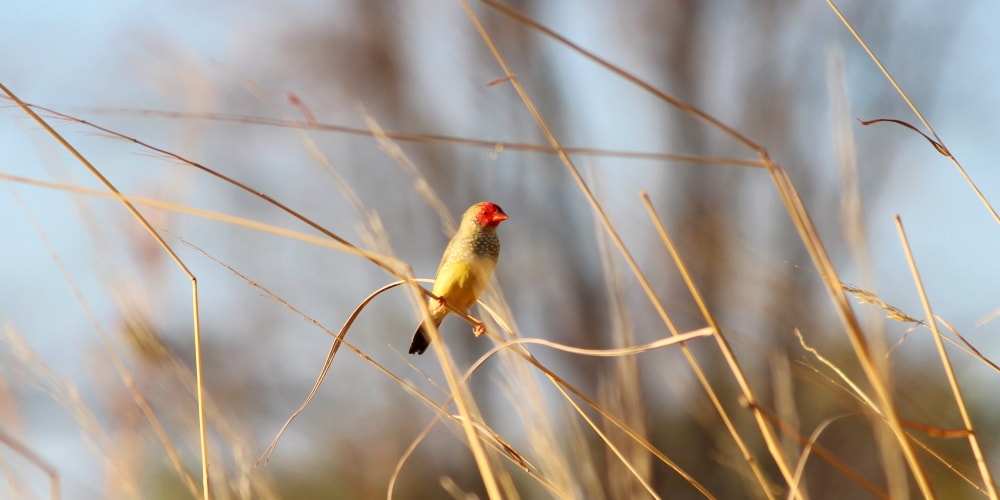 Across a glary blue sky a flock of 30 tiny birds zipped past. They were silent, flying fast and straight, on a mission. All you saw was a flash of gold, or rosy-brown, or white. They were gone before you had a chance to wonder what they were. Oh well, back to watching...
read more
When I first wrote about the butterflies of the Northern Territory I was in the early stages of learning about these magnificent creatures. Back then, I only saw a few of the hundreds of species of butterflies present in the Top End. That first article opened my eyes,...
read more
He looked at us, warily. We stayed still. We expected the cute young Dingo to run off, wary as most predators are. We have seen wild Dingoes in East Gippsland, Victoria, and they've always been very quick to disappear. He trotted away from us along the roadside for a...
read more
Some birds are best seen in flight. Wings slash through the air like a volley of thrown spears: fast, glinting silver and black. There's no time to watch wingbeats. Flying cockatiels are the high-speed gazelles of the air. The natural phenomenon of wild flying...
read more