Mungo Outback Journey
4 days in the desert
Mungo National Park
Experienced Guides reveal an arid land, rich in wildlife and ancient Aboriginal Heritage.
2019 should be a good time to travel to Mungo. Some spectacular wildlife sightings have been occurring around Mungo & Hattah. The south-west Outback is dry, and dry conditions are predicted to continue into 2019 – causing wildlife to concentrate around water sources.  
Discover the animals and history of the Australian Outback at Lake Mungo in the Willandra Lakes World Heritage Area. Track majestic wildlife and travel expansive red sand plains sprinkled with Kangaroos, Emus, and Pink Cockatoos.
Your private nature tour is conducted by an experienced Wildlife Guide who reveal Mungo's arid land, wildlife and ancient Aboriginal Heritage.
Walk in the shade of Desert Pines searching for brilliant parrots and sleepy lizards. Climb mighty sand dunes for expansive views over the desert.
Experience the peace of the Australian Outback whilst staying in 3-4 star accommodation in the town of Wentworth overlooking Thegoa Lagoon and at remote Mungo Lodge beside Lake Mungo.
PRICES
For a party of 2 people:
$3000
PER ADULT
For a party of 5 or more:
$1950
PER ADULT
*This is a Private Tour and will be quoted based on your interests and group size, so can not be booked immediately on our website. Please contact us for details. If you do not wish to share your room with another person: add $400. Prices shown are valid from 1 April 2019 to 31 March 2020.
DETAILS
Location: North-west of Melbourne, including Mungo National Park, Wentworth, the junction of the Murray & Darling Rivers.
Duration: 4 Days
Grade/Difficulty: easy
Departs: PRIVATE TOUR on request – March to November every year. Departs from Mildura Airport – to meet scheduled flight.
Returns: to Mildura Airport to meet scheduled flight.
Wildlife of Mungo
Many native Australian birds & animals inhabit the beautiful dune fields and saltbush plains of Mungo. At dawn and dusk Red and Western Grey Kangaroos graze together in the low vegetation – heads raising and lowering silently in the solitude of the vast dry lake-bed.  This is one of the best places to see wildlife in Australia.
Bird life at Mungo is both rich and rare – resident Wedge-tailed Eagles soar overhead and nest in the few desert trees, giant flightless Emus swagger about the plains in small bands. Brown Falcons & Nankeen Kestrels hunt low flying birds and insects.
Most beautiful of all is the Pink (Major Mitchell's) Cockatoo with its fabulous multicoloured crest.  Galahs and Little Corellas are a common sight. Some of Australia's most vividly colourful parrots are seen at Mungo, including Mulga Parrots, Mallee Ringnecks, Blue-bonnets and Red-rumped Parrots, often in the desert pines where noisy Chestnut-crowned Babblers also live & make their large communal nests.
Splendid and White-winged Fairy-wrens regularly pop up on top of saltbushes,  a sudden, brilliant flash of blue, and Red-backed Kingfishers dart past.
Shingleback & Central Bearded Dragon lizards are often seen basking in the sun in these delicate arid ecosystems.
Our Wildlife Guide will place you in locations at the right time to see many of these creatures.
It is a land of boom and bust, with dramatic variation from season to season and year to year.  In boom times (after rain) the wildlife here is some of the best wildlife viewing in Australia.  In bust (during drought) the wildlife concentrates on the last remaining water and green feed, which also makes for excellent viewing.
This nature tour in Australia is perfect for birdwatching and wildlife photography.
See below for our Wildlife Species Lists from recent trips, or click here to see past Mungo Outback Journeys
Our conservation action for this tour is to record and submit all significant native animal sightings from this trip to online atlasses for the benefit of science, education and conservation.  Tour guests are encouraged to participate whilst on the tour, by locating animals, photographing or mentioning them to the Guide.  We also encourage guests to submit their own sightings to eBird.org and ala.org.au
BIRDS: Check out Janine Duffy's/Echidna Walkabout's listings on eBird.org.au – try Hotspots: Mallee north of Mungo Lodge; Mungo National Park; Hattah-Kulkyne National Park
MAMMALS, REPTILES, AMPHIBIANS and BUTTERFLIES: We submit sightings & photos to the Atlas of Living Australia.  Here's a few: Mallee Military Dragon; Gould's Goanna;
What to bring
Strong walking shoes or boots, clothing to suit variable weather conditions (please check weather forecasts for expected temperatures or call us), sun hat, rain proof coat, small torch, insect repellent, sunscreen, day pack and 1 litre re-usable water bottle.
Weather: Be prepared for extremes in both seasonal and daily temperatures in Outback Australia. Winter days are cool to warm and nights cold to frosty. Spring and Autumn days are warm to very hot. Desert winds can be penetrating, very cold in Winter and hot and dusty at other times of year. Shelter from the elements is minimal.
INCLUSIONS
Tour includes: Full interpretation by experienced Guides, meals and accommodation as described below, entry fees and on ground transport ex Mildura Airport.
Expert Wildlife Guides: Echidna Walkabout's Wildlife Guides are recognised as some of the best in Australia. Our Wildlife Guide training program ensures that all Guides have an in-depth knowledge of the wildlife and environments you will see. They are friendly, knowledgeable and passionate about wildlife – some of them have over 20 years experience working with wild animals, several are volunteer wildlife carers and rescuers and most have travelled extensively throughout Australia and the world.
Many hours of wildlife research work precede the tour to ensure that you see and learn about native wildlife in its natural environment. Guides carry two way radios and mobile phones which link them to other Wildlife Guides and to emergency services. Guest safety is of paramount importance to us.
Meals on tour: Meals are provided as noted in the itinerary. Dinners are 2 courses. Weather permitting, dinner on Day 2 is a bush barbecue in the desert. Picnic lunches are provided on tour. NB Vegetarian, gluten-free, pork-free or other food preferences must be provided at the time of booking. We will always do our best to cater for special needs but please keep in mind that we are operating in a very remote environment. Some meals are carried on board the vehicle, others are ordered in advance.
Transport: In comfortable air conditioned vehicle
Drinking Water: Tap water is completely safe and drinkable and available at the accommodation, and a large storage is carried on board the vehicle each day. We recommend you bring a re-usable water bottle which we can refill during the day. If you don't like to drink tap water we highly recommend you bring a filter to reduce plastic waste.
Accommodation
On the first night you will stay in the town of Wentworth in well appointed (ensuites) 4 star accommodation overlooking the often bird-filled Thegoa Lagoon. Across the road the Darling River nears its final junction with the Murray River. These two rivers drain 1/3rd of the Australian continent – much of their courses travel through semi-arid land.
The following two nights are at Mungo Lodge set deep inside the Willandra Lakes World Heritage Area near Lake Mungo. The Lodge offers 4 star modern accommodation in a remote environment. You can walk directly from the Lodge into the desert sands and return to excellent meals in the classy dining room or enjoy your meal on the deck. All meals are traditional Australian bush fare – a genuine taste of Australia. (NB: depending on weather and wildlife movements we sometimes have meals out in the bush)
Geography
The dramatically contrasting interface between the riverine ecosystems of the Murray and Darling Rivers and the arid land ecosystems around Lake Mungo means we see many different types of animals – from waterbirds one day to desert parrots the next.  Every day is different.  Because of this – although our journey focuses on Lake Mungo – we also visit other important wildlife and Aboriginal sites in the region.
Please view our cancellation policy here
Before the tour – On the occasions when rain does fall at Mungo, dirt roads into the area may become waterlogged and impassable meaning that the tour may be modified or cancelled.
If you have booked and paid for a tour that is cancelled by us due to rain prior to the departure date we may do one only of the following:
Offer you the tour on another occasion
Offer an alternative tour
If neither of the above is possible we will refund the amount you have paid us for the tour (this amount does not include flight).
During the tour – Echidna Walkabout will always attempt to run your tour as per our itinerary. However Outback travel can be influenced by a wide range of conditions and factors that are often out of our control and which may cause us to disrupt of change the tour.
On some occasions we may have to modify the itinerary due to extreme heat or wet weather or poor road conditions. We will always try to get you back for your flight out. However you must be aware that we will not compensate you in any way whatsoever for any losses or liabilities you may incur.
LATEST NEWS ABOUT MUNGO OUTBACK JOURNEY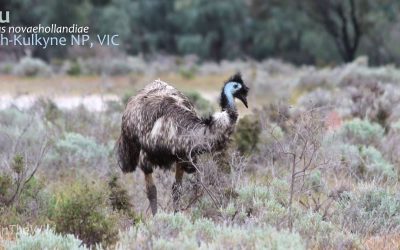 by Morwenna Petaia The Emu is one of the iconic birds of the Australian Outback, and there's no better way to see them than on the Mungo Outback Journey. Here are 5 amazing facts about Emus. 1. Emus can go without food for 2 months. Female Emu birds are slightly...
Fly to Mildura and meet your Echidna Walkabout Wildlife Guide and begin your Private Outback Journey. Four days touring and three nights accommodation are included, along with your meals and transport. Due to the harsh nature of the desert environment the following itinerary is subject to modification depending on a range of factors including season, weather, wildlife movements, daylight saving and flights.
Rivers and Lakes of the Outback
Depart Melbourne airport in the morning on a short flight (flight by others) to Mildura on the edge of the Outback. Upon arrival you will meet your Echidna Walkabout Wildlife Guide and begin your private Outback journey. Your first stop will be at the junction of Australia's two great rivers – the Murray and the Darling – where they meet in the Outback. This is a very significant place to both indigenous and non-indigenous Australians. It can be surprising to see so much water flowing through this semi-arid region. We have lunch then drop your luggage at your accommodation located overlooking Thegoa Lagoon, a major billabong (water hole) of the Murray River and home to many birds. The rest of the day is spent in the local region on walks searching for wildlife and birds beside the rivers and billabongs of the arid country.  Often extraordinary numbers of parrots, cockatoos and other birds are seen here as they arrive out of the desert looking for food and water near the rivers.  We end the day walking red sand dunes in search of reptiles and some of the birds of prey of this region. At the end of the day we head back to your accommodation to prepare for tomorrow's journey to Hattah Kulkyne and Mungo National Parks then on to dinner in the town of Wentworth. O/n Two Rivers Motel (L,D included).
Lakes of the Desert – Hattah Kulkyne & Lake Mungo National Parks
After an early rise we drive south to Hattah-Kulkyne National Park.  This 50,000 hectare reserve is famed for its incredible mix of dryland and wetland bird life and other wildlife in an extraordinary environment where both red and yellow sand dunes meet riverine forest beside a large system of natural lakes and wetlands.  We'll spend the morning here and expect a high bird count on the way there and in the park itself. Hattah Kulkyne is also home to a wide range of reptiles including two species of large monitors and snakes and lizards. After lunch beside the lake system we head north to Lake Mungo in the Willandra Lakes World Heritage Area along straight dirt roads deep into the desert. Upon arrival – in the late afternoon – we check into Mungo Lodge then begin a 2 day wildlife journey of walks and drives that allow us to investigate the wildlife of this remarkable place including an amazing variety of desert birds, two species of kangaroos, emus and a remarkable variety of desert vegetation. Lake Mungo is part of a huge dry lake system with an extraordinarily diverse array of habitats varying from dense mallee woodlands, cypress pine/buloke woodlands, mulga scrub and vast expanses of saltbush.  Huge white sand dunes rise high above the dry lake beds and have been eroded in some areas allowing burrowing birds like the White-backed Swallow to build their nests.  We often see Major Mitchell Cockatoos and Cockatiels in this region along with chats and arid land fairy wrens.  The Crested Bellbird is often heard and sometimes seen.  Raptors including the Spotted Harrier, Black Falcon, Grey Falcon and Wedge-tailed Eagle are known to nest in the area. There is a possibility of seeing Mallee Fowl but they are extremely rare.  Emus are abundant. To begin this journey we walk to a lookout over the dry lakebed of Lake Mungo near sunset. Here you will learn how the Willandra Lakes System dried out over thousands of years as the climate warmed. Because the country is flat, any rise places you on top of a world that stretches from you direct to an endless 360 degree horizon. O/n Mungo Lodge  (B,L,D included).
Magnificent Lake Mungo – Wildlife & Culture on a 50,000 year old journey
This is undoubtedly the highlight day of this trip. The Mungo Outback Journey will help give you a deeper understanding of Aboriginal People and their Culture. We rise before sunrise for a light snack before heading off to explore the ancient "shoreline" of dry Lake Mungo. At this time of day wildlife abounds; cockatoos, parrots, kangaroos and emus are often seen in large numbers. We drive across the dry bed of Lake Mungo to lunettes (wind-curved sand dunes) to begin a "story line" through 50,000 years of Aboriginal History beginning at the lake bed and rising high into the eroded dunes. You will learn about the people who lived at this place, see evidence of their camp sites, view the remains of their cooking fires and, depending on the movement of the sand and soil, you may even help with the discovery of new sites! Your Guide will also point out evidence of extinct fauna. It will become obvious that this now dry arid area was once a thriving wetland where large numbers of waterbirds and animals co existed beside a vibrant population of Aboriginal People for tens of thousands of years. Where people lived they also died and not far from where you will be walking is the oldest recorded human cremation in the world. Burial sites continue to be exposed throughout the Willandra Lakes World Heritage Area and are monitored carefully by Traditional Owners to minimise disturbance and engender respect for their ancestors. Due to the sacred nature of these burial sites they are not accessible to the general public. Next we begin our circumnavigation of Lake Mungo. Travelling  by vehicle and on foot you will pass through 4 ecosystems ranging from dry lakebeds to rich sandy bush country. As we travel we'll stop often to search for birds and other animals and learn about the vegetation in this constantly changing landscape. During the drive there is the opportunity to climb high into the huge Mungo dunefield for stunning views across the desert. Depending on weather and time of year, dinner this afternoon will be out in the desert before returning to the Lodge as the sun sets. As the daylight fades we often see large numbers of both Western-grey and Red Kangaroos grazing beside the road. Emus abound.  O/n Mungo Lodge or similar (B,L,D included).
Return to civilisation and transfer onwards…
After an optional early morning bird walk we enjoy a final breakfast at Mungo Lodge before driving out of the desert to Mildura Airport where you fly out to your next adventure.   (flight by others). (B included).
Why the Mungo Outback is special
Australian Aboriginal People have lived and hunted beside Lake Mungo for 50,000 years. Mungo National Park is the site of the oldest cremation of any human – dating back 50,000 years. The region has been continuously occupied by Aboriginal People since that time – the longest known occupation of any land by any people on earth. Ongoing research found the area to be so important it was listed as a World Heritage Area in 1981. Mungo National Park also offers a unique insight into climate change, its effect on human habitation and the environment over many thousands of years. Mungo National Park is also home to many arid land animals and birds including kangaroos, rare parrots and cockatoos, birds of prey, reptiles and many others. Skeletal remains of extinct marsupials, the forebears of Australia's unique suite of wildlife, are still found around Lake Mungo. Today the land boasts 2 of Australia's 5 species of great kangaroos, many rare and beautiful parrots, birds of prey, reptiles and a rich arid land flora. Read more on our Wildlife of Mungo tab above.
PAST MUNGO OUTBACK JOURNEY CHECKLISTS
Highlights of Mungo Outback Journey safari (part of 21 day Maximum Wildlife) to Mildura, Wentworth, the Murray & Darling Rivers, Hattah & Mungo National Parks, central Australia with Wildlife Guide Michael Williams. .. Guests saw: Echidna, Western Grey &...
Part 1: Mungo Outback. Wildlife Guide: Roger Smith Highlights of this part of the trip include: Western Grey & Red Kangaroos in big numbers, Major Mitchell's Cockatoos, Red-backed Kingfisher at nest, Black Falcon, Regent Parrot, Chestnut-crowned Babbler,...
Wildlife Species checklist from Mungo Outback Journey 14 to 17 September 2017 Highlights: great views of Major Mitchell's Cockatoos, Crested Bellbird, Wedge-tailed Eagles, lots of Western Grey & Red Kangaroos and Emus, Mallee Military Dragon & Central Bearded...